I'm back! Ok so technically I was only away for like a day - but it felt like FOREVER! I wasn't able to make anything all weekend because I was "cleaning". Which really just means I moved all my crap upstairs to the craft room and i have been trying to sort through it all. But I keep getting distracted - first by the
ribbon project
and then on Sunday I bought a new craft table! I am SUPER excited about that because the table I had up there was plastic and I never work in that room because the table sucks so I'm hoping this will help me want to use that room more often! Anyways hopefully I will have that clean soon. Back to the tag I made:
I was up in my craft room looking for inspiration - usually I look through my papers and try to find something I am interested in using - but then I remembered this:
A vintage bride and groom I found at an antique store the other weekend in the mountains. I was SO excited when I found it! Like super super excited! I have been looking for a reasonably priced one for forever. I think I saw a picture in a magazine a couple years ago where someone had a collection of them - it was so cute I have kept that in my head and have been looking for one (or two or three) ever since! So anyways - I used them as inspiration and used basic grey cappella line which has a vintage flair to it to make a tag:
And I know you like the tags and want to make one yourself! Make one, post it on your blog and then link it up to my
Tag Linky Party here
! You have until November 3oth - so get working on those tags!
This post is linked here: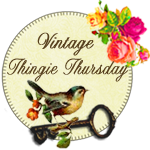 border="0"/ />